The Artistic Movement was founded in 2018, Italy by Raffaele Ciotola.
Movimento Artistico è stato fondato nel 2018, Italia dall'artista Raffaele Ciotola.
The '' Rock Art Ciotola '' is an Artistic Movement born in 2018 created by Maestro Raffaele Ciotola. It aims to embellish famous people around the world in Rock style, with respect and without making fun of them. The style is to tattoo them especially from the shoulders towards the extremity of the neck to elevate their appearance to the highest aesthetic levels.
They also wear whimsical earrings that reflect the '' Rock Art Ciotola '' style, daring without ridiculing them but simply making them fascinating. Their media value is clear, the Pictorial Current categorically expresses the need to treat them with tact and elegance, responsibility and respect. If we talk about Rock Art Ciotola, I invite my future disciples to use this style by putting the value of the character in the first place and not to ridicule him and then offend him in the eyes of society or make a caricature of him to the point of diminishing the clear objective of the Pictorial Movement.


The '' Rock Art Ciotola '' does not offend, but enhances!

La ''Rock Art Ciotola'' è un Movimento Artistico che vede il suo avvio nel 2018 ad opera del Maestro Raffaele Ciotola ed ha come obiettivo l'abbellimento in stile Rock di alcuni personaggi illustri provenienti da tutto il mondo.
Questa particolare linea stilistica esprime a pieno il carattere sensibile ed empatico del suo autore, vicino ad ogni forma di arte e di bellezza. Il Maestro Ciotola riprende le tendenze giovanili e le trasporta nella sua pittura, in cui il fascino del classico cesellato minuzioso e prezioso si accompagna ad un carattere trasgressivo e alternativo. Lo stile della "Rock Art Ciotola" si caratterizza per ritrarre i personaggi tatuandoli - soprattutto dalle spalle verso l'estremità del collo – con l'intento di elevare ai massimi livelli estetici il loro aspetto; inoltre, i soggetti ritratti indossano orecchini estrosi, osando look trasgressivi. Il fine ultimo non è ridicolizzarli né prendersi beffa di nessuno di loro, anzi il pittore vuole renderli affascinanti con massimo rispetto di ciascuno.
Il Maestro Raffaele Ciotola, con la sua Rock Art dà avvio ad un'arte anticonformista che utilizza la tecnica classica per esprimere il nuovo millennio Rock. La valenza mediatica di queste opere è chiara: la sua corrente pittorica vuole catturare la massima attenzione del pubblico; ma parallelamente esprime in modo categorico la necessità di trattare i personaggi con tatto ed eleganza, responsabilità e rispetto. Infatti, il creatore della Rock Art il Maestro Ciotola invita i suoi futuri discepoli ad utilizzare questo stile mettendo al primo posto il valore del personaggio senza ridicolizzarlo né offenderlo agli occhi della società e nemmeno farne una caricatura, perché ciò - al contrario - sminuirebbe il chiaro obiettivo di questo Movimento Pittorico: pur nella sua libertà creativa l'arte non deve mai offendere, ma unicamente valorizzare!
The artist Raffaele Ciotola was born in Naples on the 17th of October 1964. His loving and receptive family promoted his studies and supported supporting his artistic nature. He obtained the Artistic High School School graduation and got the Master of Arts degree at the state institute of Arts "Filippo Palizzi" in Naples in 1983. Since he was a boy he has been devoting his life to painting in a professional manner; after his debut in 1980 at an exhibition in his hometown, he kept on taking part in other collective and personal exhibitions set up in several Italian cities until 2002 (Piano di Sorrento, St. Anne in Naples, Milano, Viterbo, Milan). He was awarded the gold medal at the National Biennial of Sacred Art in Torre del Greco in 1980 by prof. Mr Franco Girosi, a famous Neaolitan artist of the last century. It was foundamental for his training, the meetings with prof. Mr Franco Girosi and with Mr Luigi Signore, an artist known as one of the best sculptors of cribs in Italy today. He studied music and attended the voice class at the Conservatory of Naples, but the meeting he had in Rome in 1987 with Master Mr Renato Guelfi, opera singer and painter, was so crucial to his professional growth that he started performing as a singer in some Italian theatres (Lecce, Santa Maria di Leuca, Ronciglione, Villa Pignatelli in Naples). He got to obtained some rewards such as: the gold medal in "La Triade" Prize, Palazzo Sormani - Sala del Grechetto - Milano; the diploma of honor at St. Anastasia, Naples. His personal exhibition in Tuscia dates back to 2002 , in this occasion he exhibited for the first time at the Sala Anselmi in Viterbo. His painting style and production are characterized by an intense use of colours and by the chiaroscuro effects conveying a whole creative freedom and a boundless vital energy, without hiding any strong and eloquent emotion, leaving the viewer a hope, a light , the one that leads beyond any solitude and that blurs roles and social conventions. In fact, from the late 90s, his work is more focused on topical issues and feels the effect of his civil commitment against homophobia and discriminatory behaviors, so it became a vehicle to spread some nonconformist messages, even inspired by universal ethical values. In 2003 he created the artistic movement called "Stop Homoph Art" which aims to spread the culture of respect and fight against homophobia. From this battle, "The Madonna of the homosexuals" came to life, it became the emblematic work of his production and will be exhibited for the first time in the foyer of the Mercadante Theater in Naples on the 18th of October 2014. So his landscapes and his dreamlike hermetic metaphysical views of the first period, they have been gradually replaced by works full of reflection and judgment which are well received by public and by critics, attracting the attention of Mr Jean-Louis Cougnon, Chief Excecutive at General Managment of European Parliament.
In 2018 he created a second artistic movement '' Rock Art Ciotola ''. It aims to embellish famous people around the world in Rock style, with respect and without making fun of them. The style is to tattoo them especially from the shoulders towards the extremity of the neck to elevate their appearance to the highest aesthetic levels. The work of art '' Italy Against Racism '' dedicated to the fight against '' Racism '' which was appreciated by correspondence by the President of the Italian Republic Sergio Mattarella.
* Catalog of the international artists of Tuscia - Viterbo - Italy.
* Book '' Raffaele Ciotola and his vitalism '' Ediz. Mondadori, Feltrinelli, IBS, University bookstore .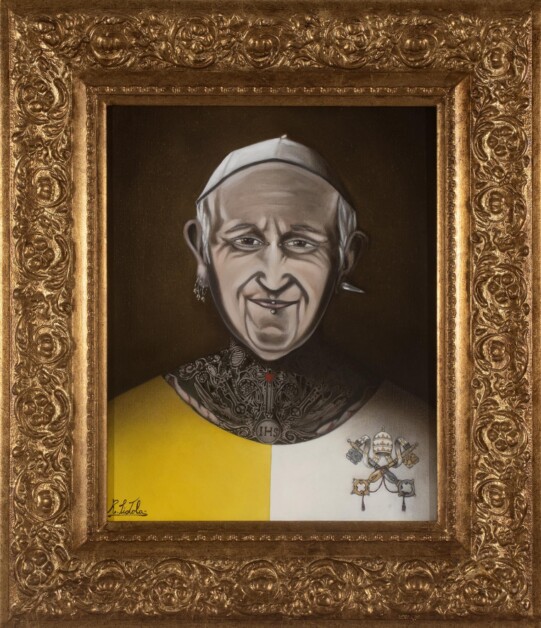 First of all I would like to point out that I feel a strong spiritual and human enthusiasm for Pope Francis, for me he is the first Pope who conveyed true feelings to me. Therefore, it is clear that the work I have created was born from the heart and not with the purpose to mock this great public figure. The title I gave to this contemporary painting is ''The Rock Pope'' Pope Francis embellished with piercings and neck tattoos, so that some apparently frightening, rebellious, etc. young people could see a reference in Him. A lot of people linger over physical appearance while marginalizing some of those young people who try to express their beautiful or ugly feelings in their own way. A Pope who rebels against everything that is neither love nor truth is UNIQUE to me! I see him very far from the ecclesiastical hierarchies and I wanted him to be Rock just like so many young people
who do not appear superficial but actually direct, courageous, loving and concrete. Appearances are sometimes deceiving and unfortunately people are sure that visible simplicity is reliable. God protect Pope Francis!